Greetings
We will be with Miyanosawa
Tsutsumibito opened at Miyanosawa, Sapporo.
We will be walking with Miyanosawa.
We will support local communities of Sapporo through foods.
Trademark registration has been applied for.
Our specialty, Fukumori Gyoza was named by Mr Yoshikazu Nonomura, the president of Hokkaido Consadole Sapporo. Also, it is an official product of Mr Akito Fukumori, the player of Hokkaido Consadole Sapporo.
We are looking forward to your visit. We serve you authentic and innovative Chinese dishes.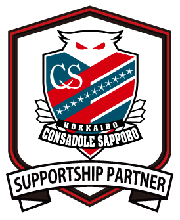 Tsutsumibito is the supportship partner company of Hokkaido Consadole Sapporo, the professional football club walking with the local community.